Okay, so you've just killed your latest home workout and you're sitting in that weird space of accomplishment and anxiousness. While you undoubtedly take pride in your training performance, you're awaiting that all-too-familiar aching in your muscles. Whether you dread the post-workout fatigue or wear it as a badge of honor, the effects of muscle soreness can easily spill over into your daily life. This achy feeling in your muscles is something called delayed-onset muscle syndrome, or DOMS, and it can legitimately slow you down. But what are you to do when the DOMS come running — leaving you immobilized and contemplating if the progress was worth the pain.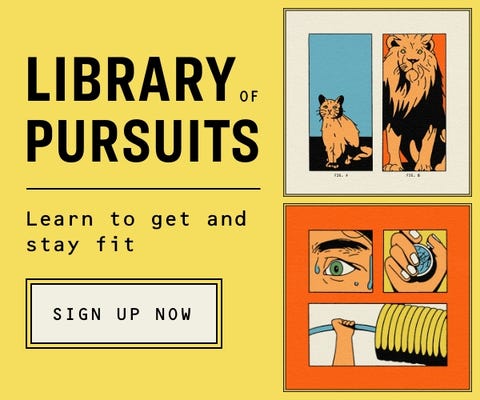 Getting fit isn't just about buying the right gear, it's about setting goals and creating lasting habits. Sign up here for a 5-lesson guide full of advice from fitness pros on how to get and stay fit.
One way to dominate the DOMS is with a post-workout massage. A 2017 review of several studies found that athletes taking part in a massage 24, 48 or 72 hours after intense training showed significantly decreased muscle soreness ratings. We all don't have professional massage therapists at the ready after every workout, but what if we could get the same treatment from the comfort of our couch? Percussive massage guns can be a great tool for filling that gap, alleviating muscle soreness whether from working out or staying hunched over in your office chair all day. Through the use of percussive therapy, these handheld recovery essentials can get you back to your comfortable self at a quicker rate, proving to be a great defense against the dreaded DOMS.
What is Percussive Therapy?
When you use a percussive massage gun on your sore muscles, you're taking part in what's known as percussive therapy. This recovery method targets soft tissue pain by rapidly stimulating blood flow in the targeted area. Rather than simply vibrating your muscles or ligaments, Dr. Jason Wersland, DC, founder and Chief Wellness Officer of Therabody, says the benefit of percussive therapy lies in its ability to reach deeper into the muscle. "While vibration therapy feels good on the surface of the body, it's a 'global' experience as opposed to a targeted one. Percussive therapy targets treatment areas by reaching deep enough into the muscle to increase the amount of blood flow and oxygen needed for efficient treatment and recovery."
A good real-life comparison to percussive therapy would be the Swedish massage technique of tapotement. Using rhythmic chops, slaps and beats along the body, this technique aims to stimulate stressed muscles and release toxins from your tissues by increasing blood flow at certain points along your profile.
How to Choose a Percussive Massage Gun
There are a number of percussive massage guns on the market — from the professional-grade heavy-hitters to budget-friendly picks perfect for the everyday fitness enthusiast. But what separates each device, and how do you know if the gun you choose packs enough punch in its design?
The most notable differences between percussive massage guns can be found in quality of build and two key performance stats called stall force and amplitude. Stall force is the amount of pressure needed for the gun to stop applying perpendicular force into the muscle. Essentially, the gun's power peaks. Amplitude, on the other hand, measures how much distance the massage gun head can travel back and forth.
Budget guns will have a stall force of around 20 to 30 pounds and an amplitude of 8 to 10mm, while mid- and higher-tier guns will have 40 to 50 pounds of stall force and 12mm to 16mm of amplitude. These numbers alter the effectiveness of the device and whether it provides vibration therapy or percussive stimulation. If there's not enough perpendicular force applied to your soft tissue, and the amplitude is not great enough for the head to travel off the body, the gun cannot reach as deep into the muscles.
If you're just looking for temporary relief from sore muscles and are not concerned with the potential sports performance benefits, the less expensive guns will be more than suitable. However, if your primary goal is to aid fitness recovery and performance, expect to pay a little more for a gun that's up to the task.
How We Tested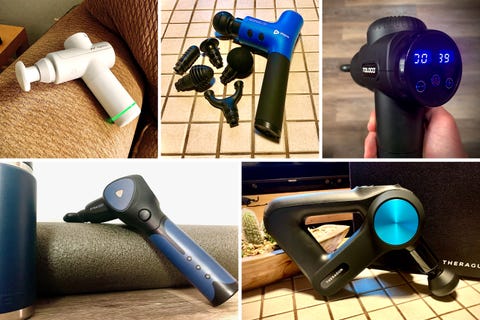 Ben Emminger
Over the course of a month, we used these percussive massage guns to help relieve our sore muscles across a number of activities. Whether after a grueling session in the gym, relaxing after a long day at our desks or recovering after a rec league slowpitch softball game, we gave these devices a shot in helping keep our bodies in tip-top shape. We also used each massage gun in various settings, noting how maneuverable they were in reaching those lingering knots, how quiet they were when in-use and how easy it was to change attachments for different modalities. Bonus points were rewarded, too, for conveniences like timers, carrying cases and other perks not found in other massage guns.
Now, let's get into our picks and see which guns truly pack a punch in the recovery game.
Best Overall Massage Gun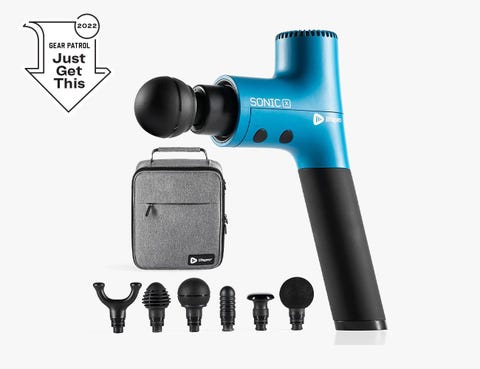 Courtesy
Lifepro Sonic X Personal Percussion Massage Gun
lifeprofitness.com
$174.99
Simple, quiet and providing plenty of muscle-stimulating relief, the Sonic X from Lifepro is our go-to pick for the best percussive massage gun. While the amplitude is not as long as others on our list, the 56 pounds of stall force provided plenty of power to work out those irritating knots. The Sonic X comes with six attachments for a myriad of uses, and the simple LED display around the single button is easy to read as you toggle through the five available speeds, ranging from 1,400 to 3,200 percussions per minute. The angled handle feels comfortable in your hand as you paint your targeted areas, providing just the right degree that's not too hard on your wrists. Another convenient feature is the Sonic X's Intelligent Pressure Sensor LEDs, located in a circle around the single button. As you press harder into your muscles, these lights change according to the pressure applied — blue for mild pressure, purple for moderate and red for heavy. This helps take the guesswork out of how deep you're truly penetrating the muscles. The Sonic X also comes with a convenient tote for housing the machine, charging cable and attachments nicely when not in use. It might not be from one of the big brands, but we cannot deny that Lifepro hit it out of the park with this exceptional recovery tool.
Best Upgrade Massage Gun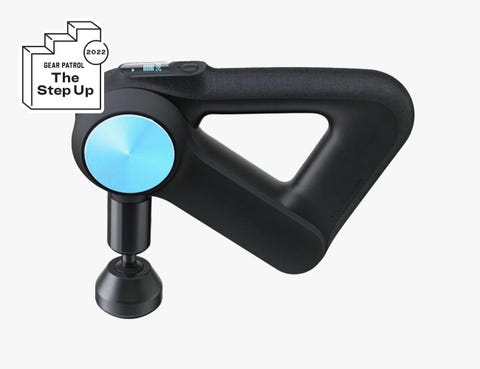 Therabody
Therabody Theragun Pro
therabody.com
$599.00
Therabody's flagship massage gun model, the Theragun Pro, is professional-grade quality and is another example of how the brand has revolutionized how we look at recovery. The commercial-grade brushless motor delivers up to 60 pounds of no stall force at five different speeds (1750, 1900, 2100, 2200, 2400 percussions per minute). It comes standard with six different head attachments, two swappable 150-minute rechargeable batteries and a hard carrying case. We enjoyed how easy it was to find those hard-to-reach knots, thanks to the ergonomic triangle handle and adjustable swivel head offering four positions for maximum coverage. Also, the Theragun Pro is a great tool for massage gun newcomers thanks to the available Therabody app. Simply download the app, pair your device via Bluetooth and get access to step-by-step tutorials, recommended recovery sessions and more. Honestly, this might have been our top pick, if not for two things: noise and price. As can be expected with such a professional-grade motor, this percussive massage gun was louder than other options, and you definitely pay for quality here. But, if you can look beyond the price tag — and settle with turning up your TV a few clicks — this is definitely a massage gun to consider.
Best Budget Massage Gun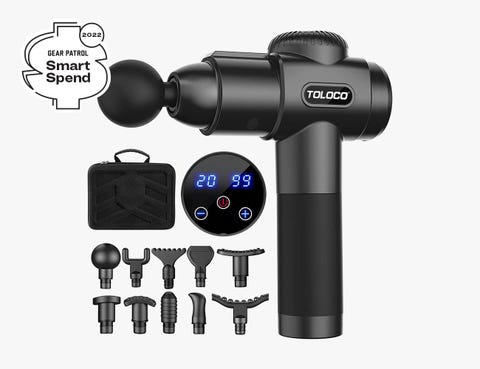 Courtesy
Toloco EM26 Massage Gun
amazon.com
$79.98
If there was one word we'd associate with the EM26 from Toloco, it would be: options. Seriously, featuring 10 varying attachments and 20 speeds providing up to 3,200 percussions per minute, this massage gun gives you plenty of versatility in such a wallet-friendly profile. The back display provides both speed and battery life, so you can easily monitor these vital statistics. The 90-degree handle did seem bulky in our hands, which affected its usefulness on upper body areas, but overall, the device is balanced well. The high-power 24-volt brushless motor seemed plenty powerful for the job, while a convenient hard case provided storage perks as well. While not as streamlined as others on the list, and there's no supporting app, Toloco's EM26 can be a great budget pick for everyday fitness enthusiasts that are solely looking for simple percussive therapy. No bells. No whistles. Just straightforward muscle relief.
Most Powerful Massage Gun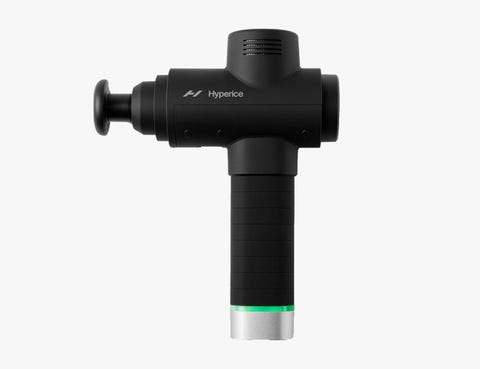 Hyperice
Hyperice Hypervolt 2 Pro
hyperice.com
$349.00
Most Aesthetically-Pleasing Massage Gun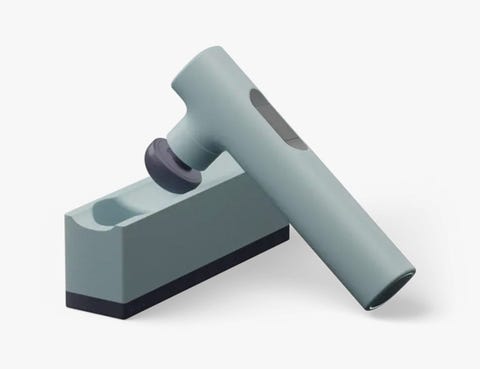 Lyric
Lyric Therapeutic Massager
experiencelyric.com
$199.95
Most Portable Massage Gun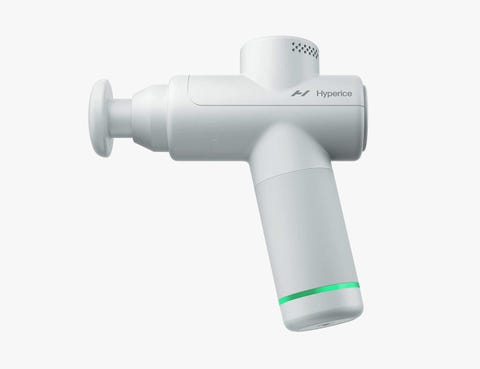 Hyperice
Hyperice Hypervolt Go 2
hyperice.com
$199.00
Best Massage Gun for Back and Spine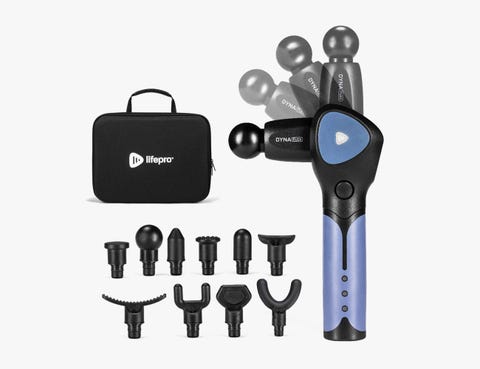 Lifepro
Lifepro Dynaflex Massage Gun
lifeprofitness.com
$199.99